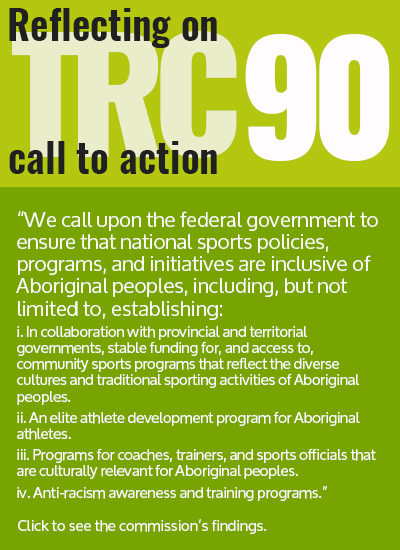 Coaching is a fundamental aspect of any sports team, be it at the pro level or recreational.
Beyond simply leading a team to victory or giving a star athlete their big break, coaches can have an immeasurable impact on their player's lives and the communities in which they live in.
Coaches are often seen as pillars of Indigenous communities and while their impact is immense and widespread, there is always the need for more Aboriginal coaches in both pro and recreational levels of sport.
The Truth and Reconciliation's Call to Action #90 specifically points out a need for more programs for "coaches, trainers, and sports officials that are culturally relevant for Aboriginal peoples."
Vanessa Lodge works at the Aboriginal Sport and Wellness Council of Ontario (ASWCO), and has worked with the organization since 2012, a year after the the group was incorporated.
She recognizes the important role that coaches, especially those of Aboriginal descent, play in the lives of Aboriginal youth.
"I think for coaching, it's a lot about role-modelling," says Lodge,who is ASWCO's engagement and development manager. "You want to have positive role models in your life, and for (many Aboriginal youth) to look up to someone that they maybe want to be when they grow up, gives them an opportunity to give back to their community later on."
Something Lodge says has been instrumental in recruiting and training more coaches of Aboriginal descent is the Aboriginal Coaching Module, a nationally based training course available to both Aboriginal and non-Aboriginal coaches from all levels of sport.
She says it provides coaches with a safe environment to discuss important issues in Aboriginal sport like racism and discrimination, and teaches them how to incorporate certain holistic approaches, into their athletic programs.
Gerry Benoit is one well-known name to have taken the course.
He was the coach of the Team Ontario U- 14 boys' basketball team, which brought home silver medals at the 2014 North American Indigenous Games held in Regina. Known for the various basketball camps he operates across Ontario for Aboriginal youth and athletes with disabilities, Benoit was recently given the 2015 "Everyone Matters Coach" award by the Coaches Association of Ontario, becoming the first Indigenous person to win the award.
"Natively speaking, it really puts a coach in an Aboriginal's shoes," says Benoit.
"We Aboriginals really do like to learn through play, be it lacrosse, hockey, basketball, or any sport really. For both non-Aboriginals and Aboriginals, the Aboriginal Coaching Module is super informative and I would recommend it to all coaches."
Like many kids growing up in early nineties, Benoit idolized Michael Jordan and was rarely seen without a basketball in his hands.
Living on the Pikwakanagan Reserve, nestled snuggly in the Ottawa Valley on Golden Lake, Benoit was known as the reserves only "basketball guy," making him something of a local celebrity in an area whose population is currently listed at less than 2,000. 
"I've always had a passion for basketball," says Benoit. "I would bring my basketball with me to school, bring it on the bus, it just always kept me going."
Having participated himself in the 2002 NAIG in Winnipeg, and having won a silver medal at the 2005 Ontario Aboriginal Summer Games in Sudbury, Benoit was able to transfer his national experience and love for the game to his players during practices and team meetings. 
Leading up to the games, seven basketball camps were held in Belleville, Pikwakanagan, Rama, Thunder Bay, Timmins, Fort Albany and Sioux Lookout — something Benoit says would never have happened when he was growing up.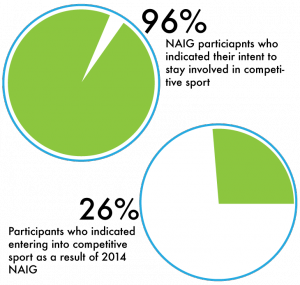 "Now, we're bringing the coaches to us," he says, noting how travel expenses and distances, lack of exposure and nerves played a role in keeping Aboriginal youth away from sport when he was younger.
"We don't live in Toronto, Vaughan or Mississauga, any of these accessible cities. We've got to take advantage of our opportunities and do the best that we can."
"Coach Gerry"
Bradlee Kitchikake attended the Team Ontario U-14 camp in Rama during the winter of 2014. He made the team as a power forward, and says that "Coach Gerry" has remained a constant figure in his life since the games ended in July of that same year.
He is friends with Benoit on Facebook—something he (Benoit) says he likes to do with all his players, and is frequently invited to basketball tournaments across Ontario whenever possible.
"It's basically like having my friend coach me," says Kitchikake. "He's a good guy and we're close enough to talk."
Bradlee Kitchikake won a silver medal with Team Ontario's U-14 boys basketball team at the 2014 NAIG. Along with basketball, Bradlee plays football with the Huronia Stallions Football Club in Barrie. 
Myra Kitchikake, Bradlee's mother, sees the benefits of sport and Benoit's coaching on a daily basis. As a mother, she appreciates the time that Benoit took to get to know the players individually, and the sense of togetherness and team work that he instilled in the boys from day one of training camp.
"He's just a wonderful coach, with the players and the parents — and even with the other team too," she says.
For Benoit, coaching is about more than just winning or losing. Returning home from the 2014 NAIG with a silver medal was nice, he says, but the real reward was watching his players take the confidence they gained from the games and apply it to their everyday lives. 
"I tell (my) players, don't be afraid to lose. Because let me tell you, you're going to lose eventually. But if you walk off that court, or you walk out of anything that you lose at, hold your head up high because you have character, and that character is going to be what people see."
Social Share