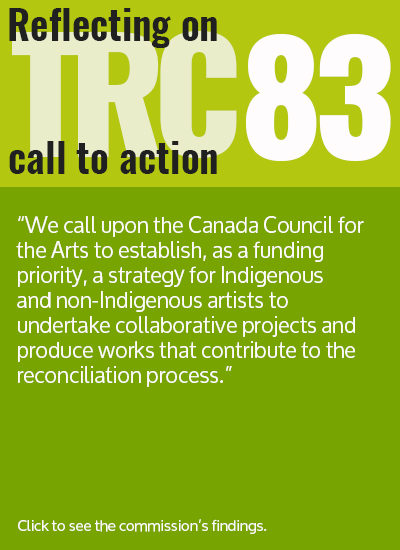 With a steady hand, he calmly held a small sewing needle and ever so gently picked up tiny brown beads one-by-one. Curtis Oland, a fourth-year Ryerson fashion design student was taught traditional woven beadwork on a bead loom by his grandmother. It takes one hour to complete one inch of beadwork. For Oland, it's only the beginning. 
As an emerging designer, Oland has figured out how to keep his traditional Indigenous culture alive. However, he's not the only one. There is a movement among  Indigenous fashion designers, who are reclaiming their cultures and challenging the often misuse of their traditional customs, by fusing contemporary designs with traditional elements.
In his small downtown Toronto apartment, overflowing with piles of horsehair, leathers and fabrics, Oland worked tirelessly to complete his first major menswear fashion collection, "Harvest," which debuted at Ryerson's 2016 Mass Exodus fashion show.
"The image of a scar going up a tree. That was the starting point for my collection," Oland said.
To spread the ashes of his late grandfather last summer, Oland and his family travelled to their traditional First Nation territory of Lil'wat in Mount Currie, B.C. The time he spent in Lil'Wat had an unexpected impact on him. He experienced a few "culturally jam packed days," which ignited new interests in his Indigenous heritage. 
"I became really interested in this idea of Harvest," he said. "I learned one of the crafts they do is cedar basket weaving."
It was cedar basket weaving that ultimately triggered the inspiration for his collection.
"They rip a strip up the tree and maybe it's like a foot long or a foot wide. Then they move to the next tree. They can't technically rip all the bark off because the tree would die," he said.
Oland saw beyond bark ripped from a tree. He saw a scar; he envisioned Harvest.
"You take what you need. You don't harvest everything; you want to leave some for the rest of nature. You want to keep the balance," he said.
This experience led Oland to fuse his cultural traditions with modern designs.
 A closer look at Harvest 
Explore Oland's collection that was presented at Mass Exodus 2016. Learn more about his inspirations and the materials he chose to incorporate into his designs.
Although being inspired by his heritage, Oland didn't want his collection to merely be viewed as Indigenous, because for him, "its more than that."
"I want my collection to be the product of my own experiences and lessons learned in my life, as a First Nations person, as a Canadian, or even just as a living creature on this planet."
Oland's collection has become a springboard for him to keep his ancestry alive, to continue learning more about his heritage. 
The pioneer 
While Oland is in the early stages of navigating the fashion world, Angela DeMontigny, a Cree and Métis designer and stylist, has become a pioneer in the Canadian and Aboriginal industry. She's been thriving for almost 30 years and has her own boutique in the heart of downtown Hamilton; filled with her luxury men's, women's and bridal collections, jewelry, handbag and candle lines. 
Not all Aboriginal fashion designers are so lucky.
So, what's DeMontigny's secret to success?
It's being on trend in an original contemporary way but never losing her aboriginality. She is passionate about designing, but fusing it with different traditional Aboriginal elements.
"I'm not always in your face doing something very predominantly native. I always try to make it that I'm not stuck in a box that way," DeMontigny said. "Some times it's the colour, the material, the adornment or the beadwork… you have to be different all the time."
For DeMontigny her designs are not just simple pieces, they are her works of art, a symbol that Aboriginal cultures are still flourishing.
"I think that a lot of other people in the world think our culture is dead," she said. "By doing high-end fashion and couture, using traditional beading, which I do do sometimes for very special pieces, is keeping those traditions alive, but current."
The partial destruction
While attending residential schools, many Indigenous children were forced to be ashamed of their Indigenous roots, resulting in far less knowledge transfer of traditional techniques and culture than ever before.
"The residential school is responsible for the partial destruction of cultures," Cyndy Baskin, Chair of Ryerson University's Aboriginal Education Council and Associate Professor said. "When children went into residential schools, all of their traditional clothing was stripped from them, their hair was cut short or their heads were shaved. Anything they wore that was significant to them culturally or spiritually was taken off and destroyed."
As a result of their experience, many cultural traditions "didn't get passed down for a few generations," she said. For survivors, it was out of fear and protection.
LISTEN: "You want to destroy a people, you want to destroy children's identities. So, you know, you take everything you can from them…"
– Cyndy Baskin, Chair of Ryerson University's Aboriginal Education Council and Associate Professor

Despite the scars left by residential schools, a shift towards reclaiming Indigenous cultures are beginning to heal those wounds.
"We have lots of people who aren't able to teach it or pass it on to their kids, but it doesn't mean that their kids aren't picking it up too," Baskin said. "A lot has been destroyed, but a lot has also survived… [which] is something to tell you how bloody strong and resilient Aboriginal people are."
Rebuilding the reconnection
The remote fly-in Ojibway community of Webequie First Nation (located on Winisk Lake, more than 500km north of Thunder Bay) was looking to reinvigorate their community, and help reconnect its youth with their culture, following years of teen suicides.
In 2011, DAREarts, a charitable organization that works to empower youth, partnered up with Webequie elders and community members.
The project? A fashion show.
Marilyn Field, founder and president of DAREarts, reached out to her friend, fashion journalist and entrepreneur, Jeanne Beker. Beker then put her in touch with D'arcy Moses, a world-renowned Aboriginal designer from the Northwest Territories.
Under the mentorship of Moses and the elders, the kids handcrafted and beaded – in their own personal styles – vests and traditional mukluks using different fabrics, furs, moose hide and caribou leather.
"It was a miracle. [Moses] came in with his sewing machine and boxes full of bits of fur and leather, his grandmothers knowledge, and his modern sensibilities," Cathy Elliot, DAREarts' First Roots Aboriginal program associate said.
Flying in sewing machines to the remote community, with his celebrity appeal, Moses became an inspiration.
The pieces took months for the youth to create. They compared bloody fingers that were repeatedly pricked by their metal needles with pride in their efforts. They often didn't want to leave school, and after hours continued working on their designs. "We had to kick them out… They were just determined to finished their work," Elliot said.
DAREarts had never done a fashion show before, but to their surprise, the show became a collective community effort, culminating in a celebratory feast.
Despite the project being a complete success, arts funding is difficult to receive. Moses returned the following year, but the project hasn't been able to survive since. "We just don't have the funds. If we had the funding we would be there," Field said. "It's unfortunate, because it really does gel the whole community together."
What the DAREarts project highlights, is the importance of fostering Indigenous culture through the art of fashion.
"Through the arts [the youth] can express who they are," Elliot said.
Beyond the materials
So, why is the preservation of Indigenous culture through fashion so important?
"I have always felt that my ancestors were within me, and now is the time [to] answer their call. I feel like the gifts I have been given, my skills as an artist, as a designer, can be used to a greater effect, and now is the time to do it," Oland said.
For Indigenous peoples, fashion isn't just another fad, or trend; it's heritage, traditions, memories, and art, preserved through generations to keep histories alive. It's a way of life, a common thread that binds communities together. 
"This is not about just Indigenous peoples. This is about Canada. This is about every single person who lives in this country," Baskin said.
Social Share